As a source of data, statistics are utilized in marketing to look for market trends, and to gauge the potential and success of marketing programs. The latest current trends of online shopping focus on price and promotion sensitivity.
Statistics on eCommerce can definitely assist the marketer to find the target market more accurately, utilize effective marketing communications channels while assessing the success of marketing, and providing data on which to base the changes to the marketing program.
The eCommerce model has become a dominant reality. Choosing an online business model allows one to increase efficiency in business and to create a new trading channel with an easier targeted reach with the relevant consumers, as well as to set a foundation of new products and services.
Importance Of Product Photography Statistics
We must not underestimate the importance of product photography as this is one of the most "business saving" tools in selling your goods. As visual creatures, we process information based on what we see. Studies show that people take in 80% of what they see and 20% of what they read.
Consumers always look for time-efficient methods and options all the time. Their attention naturally goes to images. Product photos don't just prove the quality and image of your product, but also to serve as windows into your eCommerce store, creating an air of transparency and honesty.
5 eCommerce Statistics to Improve Your Product Photography and Increase Conversion
1. 75% of Online Shoppers Rely on Product Photos When Deciding on a Potential Purchase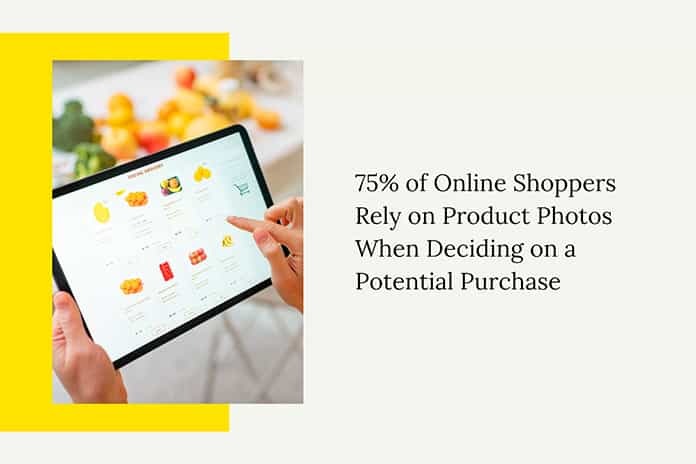 Acquiring professional images of your products is not just about that modern, high-end product appeal, thriving on your website's store pages. It can further be part of a wider effort aimed at building a community surrounding your brand, and partaking content that users will find inspirational.
Online shops that utilize quality images have higher alteration among websites. This is why along with various tasks engaged in managing an online shopping store, the need for a free background remover to remove backgrounds from product photos is important before the images can be uploaded.
You should also take your product images from different angles and layouts. If possible, it is best if you add a zoom feature on your website for your products so your customers can see them up close.
2. "Across social channels, photo and imagery posts are the most-used content type to increase audience engagement." (HubSpot, 2020)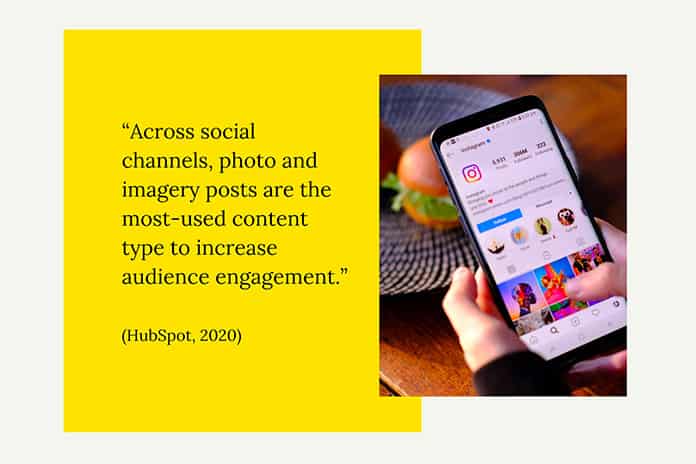 There are a number of reasons why social media should be used in eCommerce. Being present on social networks, such as Facebook, Twitter, or Instagram, increases your brand's reputation and awareness as well as provides ways to directly communicate with consumers.
Hundreds of brands are riding the waves of social media marketing. According to Buffer 2019 Statistics, 73% of online marketers believe that their social media marketing efforts have been "somewhat effective" or "very effective" for their business.
So make sure to take the photos of your products seriously to highlight your products well. Create a good and attention-grabbing caption and don't forget to connect and have fun. After all, social media is meant to be entertaining and welcoming.
3. "70% of companies invest in content marketing, which could include visual marketing strategies that need professional product photography." (HubSpot)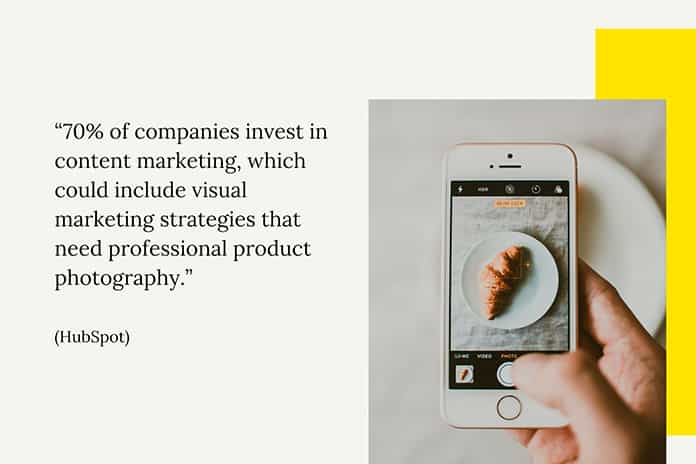 Content marketing is the process of providing and sharing content that attracts prospects with the purpose of turning them into customers in the long run. This inbound marketing strategy has become popular in e-commerce because of its long-term SEO benefits.
Every day, consumers are assaulted with ads and brands, and direct marketing resulted in a rapid rise in content marketing. Almost all online companies publish articles and offer information that users are guaranteed to be interested in.
Using photos, videos, infographics, memes, and other types of visual content are effective for marketing campaigns. Visuals come in an alluring and appealing format to draw people to go to your website, understand your business better, or buy your product or service.
Adding images to written content makes content marketing expeditions more interesting and unique, and holds your audience captivated. Shoppers see the quality of product images as a substitute for the quality of the item they have in mind. The challenge is to create high-quality visual content at a rate without shelling out so much that it cancels out the benefits of better conversion rates.
You can hire a professional product photographer and secure high-quality product images. Professional product photographers know their trade and will take your product photos at the right angle and lighting enough to grab the attention of your target customers.
4. 22% of Returns Occur Because the Product Looks Different in Person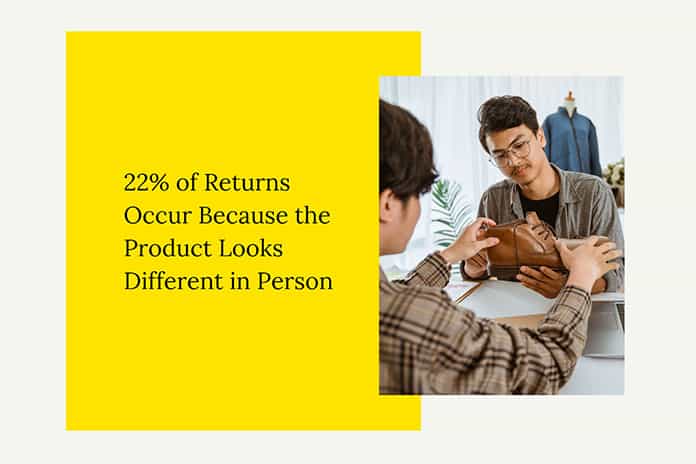 Errors happen in every business and around 65% of all returns are due to errors by the retailers. Research by TrueShip shows us that 20% of consumers have returned their items due to receiving damaged products. 22% said they received different products, and 23% said they received the wrong item altogether. 35% of shoppers return products because of other various reasons.
There are a lot of factors that may affect the fulfillment of your orders but you need to do your best to rectify them and not let it occur again because customer trust and satisfaction are the most important intangible factors that will lead you to success.
Hiring a professional product photographer can help you capture the right colors, textures, and even the quality of your products. You must also include clear product specifications and definitions. The use of mockups on your product presentations is also an effective strategy so that your customers have a good idea of how your products look like.
5. Increasing the number of images of the product improves sell-through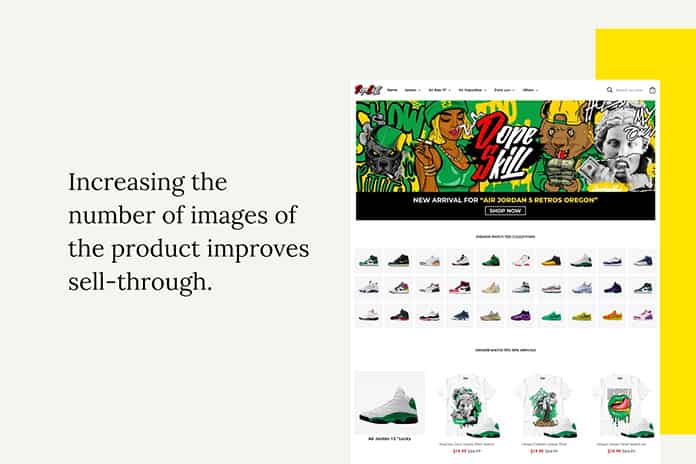 Good product photos act as brand emissaries: They project your brand and mode in one simple, adequate, and compelling way. Whether your brand is modern, ornate, or something in the middle, your product photos fortify your brand and make it even more relatable. In addition, quality product images are known to establish customer trust in both your products and your brand.
The return on your investment in high-quality product photos is magnified when endorsed by a highly "useful and unique product copy". The closer a customer gets to making a decision to buy, the more information they want about a product. Especially at higher price points. Lots of images from different angles and useful product information both attract customers to buy and increase trust in your brand. The more unique your product copy, the better your chances of getting found in search engine results. All of this makes for a more informed buying experience and this experience yields fewer returns.
Conclusion
Images provide your prospects with an incredible amount of information about both your product and your brand. Are you honest? Do you truly have the answers to the issues they are facing? Will this particular solution fit their needs? The best product photos provide customers with the information they require to come up with a decision.
As the saying goes, numbers don't lie. The information provided by statistics is foolproof. One can navigate around the information provided by statistics to help you manage your online store, therefore providing you with more prospects and customers.