Content Fuel is an on-demand and unlimited content writing service available for reasonable pricing. ContentFuel.co provides high-quality, well-written SEO optimized content to boost your blog's traffic.
From my experience, I am suggesting you choose the content fuel on-demand service for your website because the content writers are damn good, and I am sure that choosing the Content Fuel service will not disappoint you.
How Content Fuel Works In 5 Simple Steps
Submit Content Requests: You can get started by filling a simple form and you can send the details of the content.
Assigned To Writer: Your content details will be assigned to a qualified writer and the final draft will be delivered to you within 48-72 hours.
Communicate With The Writer: You can even communicate with the writer to get the piece of content written exactly how you want it.
Review & Edit: After reviewing the piece of content, you can submit it for additional changes or suggestions.
Approve & Move Onto Next: Once you're satisfied with the final draft, you can publish it on your client's website. The writer will begin the next request in your queue the same day. If a writer doesn't work out, you can instantly request a change, and another writer will be assigned.
Content Fuel: Reasonable Pricing To Match Your Content Standards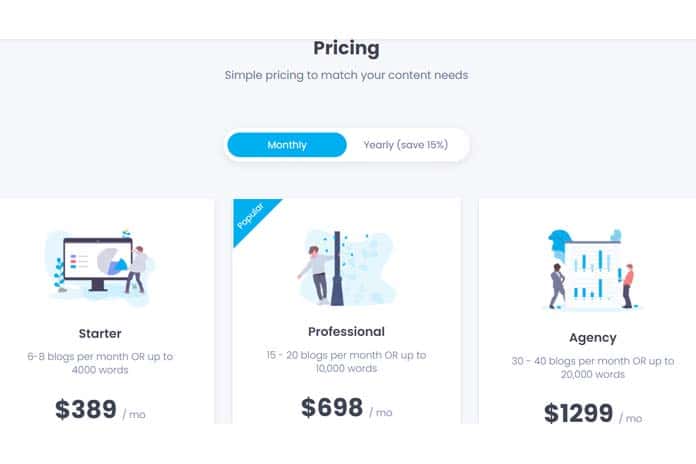 Starter Membership:
In Starter Membership, you can get 6-8 blogs per month OR up to 4000 words. Small businesses or startups looking for general and basic content requirements are more beneficial if you choose Starter Membership.
Dedicated account manager.
All content types.
Up to 4k words per month.
48 – 72 hrs turnaround.
Dedicated writer.
6 – 8 blogs per month.
Professional Membership:
In Professional Membership, 15 – 20 blogs per month OR up to 10,000 words.
All content types.
48 – 72 hrs turnaround.
Dedicated writer.
Dedicated account manager.
15 – 20 blogs per month.
Up to 10k words per month.
Agency Membership:
In Agency Membership, 30 – 40 blogs per month OR up to 20,000 words. Multi-National organisations and On-demand Agencies are more beneficial if you choose Agency Membership.
All content types.
48 – 72 hrs turnaround.
30 – 40 blogs per month.
Dedicated writer.
Up to 20k words per month.
Dedicated account manager.
Who Benefits Mostly From ContentFuel.Co?
The writers from Content Fuel are professional, and they know how to write the well-optimized content to rank high on Google search results. Below are the one who benefits the most by Content Fuel services.
Marketers: Content Fuel helps marketers by providing the scalable content to which boosts their marketing efforts.
Small Businesses: Content Fuel provides well-optimised content for small businesses, and they can invest their valuable time on taking their business to the next level.
SEO Agencies: We help SEO agencies provide them with high-quality content to their client's blogs and rank the articles on google search results.
Conclusion:
As a writer, I know how difficult it is to hire decent and professional content writers. There are plenty of writers who are copycats as they charge 10$ to 25$ by providing junk content. But after digging and doing web research, I have found Content Fuel On-demand content providing service that has a lot of experienced writers. I would recommend you to choose the Content Fuel service, which will we be a great asset in helping you to grow your business or your client's websites.