Backgrounds are as essential as your subject too. It can either make or break your photos. However, having a nasty background is sometimes unavoidable due to some factors such as the lighting, the environment, flares from your camera, and even the shaking of your hands. Once this happens, deleting them should not be your option anymore. Instead, you can simply fix your background by removing and changing it using an awesome tool like PicWish.
PicWish is a powerful background eraser that lets you remove your background quickly and accurately. Its AI technology detects and extracts the subject from its background without compromising its quality. Whether you are using this on your product photo or ID photo, this app will give you a promising result. In fact, it can even amazingly remove spaces between hair strands perfectly and neatly. After that, you can also change your image backgrounds with plain and solid colors or upload another photo and use it as your new backdrop with this tool. Interestingly, this background eraser is even accessible on all platforms– online, mobile phones (both Android and iOS), and Windows/Mac PC.
Also Read: Concept Of Google Photos & It's Main Features
Create PNG with PicWish Online(Free)
If downloading and installing software on your computer is not your thing, then, an online background remover is the right one for you. PicWish has its web-based version that allows its users to make PNG images with zero charges while the tool still renders awesome and quality results just like with the other versions we mentioned. Also, this is ideal if you only have limited storage on your PC and this is the best for people who are just using photo-editing apps occasionally, or for online sellers who are starting in E-commerce and are on a budget.
Below is the step-by-step guide to follow in using the app:
Step1. Go to PicWish' official website.
Step 2. On its interface, click Upload Image to import your photo.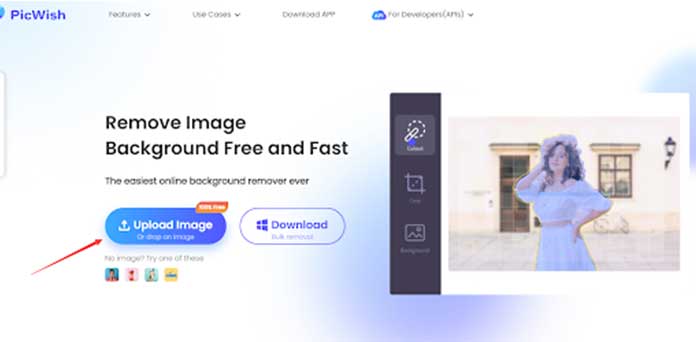 Step 3. Wait until the tool shows you a transparent background.
Step 4. After that, click Download to save the image.
Make Transparent Background with PicWish Software(Batch)
Expand your experience with PicWish by downloading this tool on your Windows and Mac PC. This tool is straightforward and you don't have to be tech-savvy to understand how it functions. The app also offers long-term or short-term usage by availing its monthly subscription which starts at $4.99 or by buying images as you want which starts at $4.99/20 images. This is a great deal-breaker, since with this version, you can upload up to 100 images and remove their backgrounds at the same time, instantly. With this, you can also upload files in folders and it automatically detects and removes the background of JPG files found in the folder.
Download PicWish Windows/Mac
Here's the simple guide you may follow after downloading PicWish on your PC.
Step 1. Launch the app and click Remove BG tab.
Step 2. On a pop-up window, upload a photo or folder of the images.
Step 3. After selecting, click Start and wait as the app processes your photo.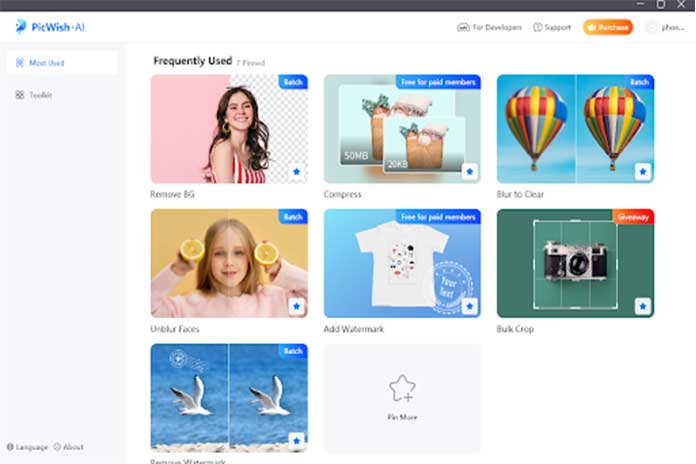 Step 4. Once done, click Save All to download the image.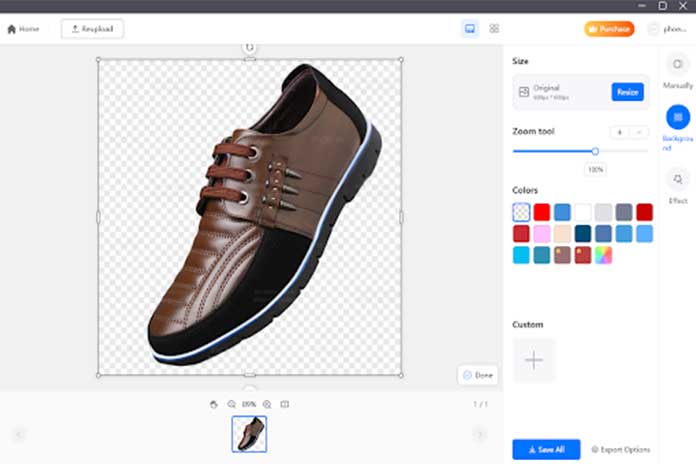 Remove Background on Mobile Phones with PicWish App
PicWish is downloadable on your mobile phone. You can download it from Google Play Store or App Store. This background remover app offers convenience since in just a few taps of your finger tip, and it can render an image with transparent background accurately without a long waiting time. One more thing, this app has a Batch feature that lets you remove the background of multiple images (up to 30 photos) simultaneously. And for a minimum of $6.99, you can fully enjoy all of its features.
Here are the steps on how to use PicWish app on your mobile phone:
Step1. Download the app from App Store or Google Play Store or directly here.
Step 2. Open the app and click "Transparent"
Step 3. Click Replace to upload the photo you want to remove the background from.
Step 4. Wait shortly as the app scans the image and renders a transparent background.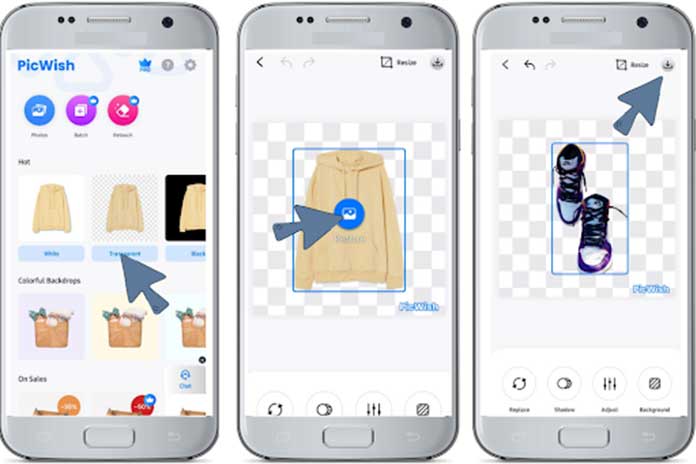 Step 5. Click the Download icon to save the file in your gallery.
Conclusion
Removing background should not be a big problem anymore since there are tools that can already give you transparent results in just a split second while maintaining the quality of the original photo. With PicWish, you no longer have to familiarize yourself with any background removal tool just as learning Photoshop should be.
Also Read: 5 Significant Facts – How Product Photography Can Impact Your eCommerce