Tonor 12 TRL-20 is one of the best solutions for professional YouTubers, Tiktok stars who are waiting to be famous worldwide. Using Tonor 12 tripod stand TRL-20, you can record high-quality videos and audio recording without squeezing out your wallet. We suggest the users choose Tonor 12 selfie ring light with tripod stand TRL-20 than many other available devices in the market.
As a user, I know how difficult it is to buy expensive an audio or video recording stand with very few features. With Toner 12, you get the complete set, which is available at a reasonable price. You can buy products here.
TONOR 12 is the perfect combination to create a masterpiece and even offers 30-day free trial for the users. DRL-20 is the number one choice for any professional artist.
Main Features Of TONOR 12 Tripod Stand TRL-20
Dimmable Ring Lamp
The TRL-20 offers 3 color modes (cool, warm, natural) and 10 levels of brightness. The color temperature is adjusted between 2700K and 6500K. It is suitable for conferences by Zoom, TikTok, YouTube, Makeup, Photography.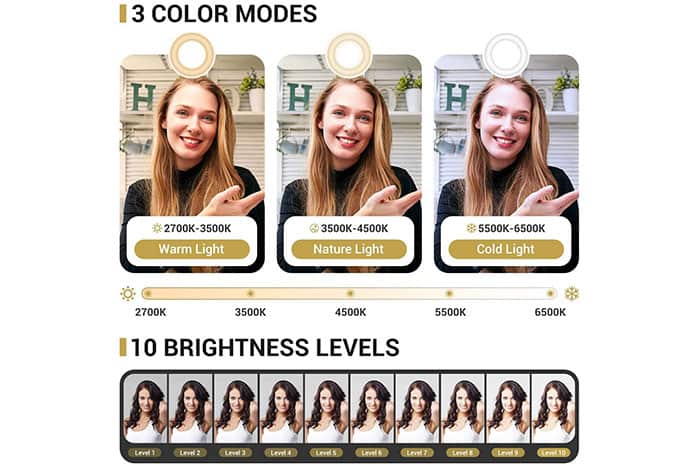 Bright And Homogeneous Light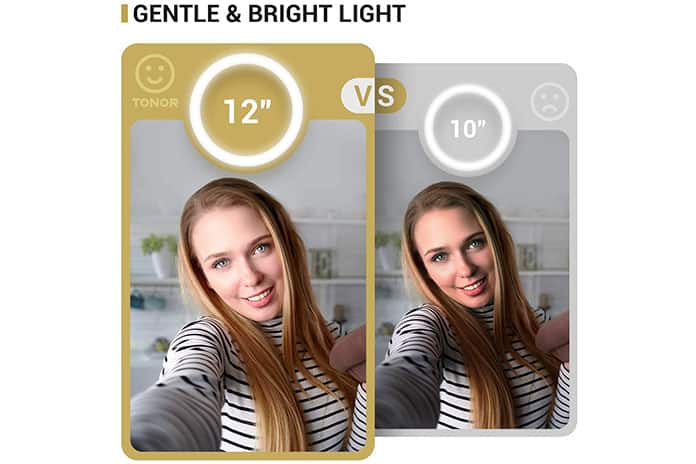 The 160 high-quality LEDs that make up the 12-inch TRL-20 ring lamp increase the brightness by more than 30% over the 10-inch ring lamp. It emits a smooth and even glow that flattens the skin and does not dazzle.
Lifespan Of 20,000 Hours
The ring lamp is composed of a light plate and LED bulbs, integrating protection against overvoltages and electrostatic shielding technology, so its average useful life exceeds 20,000 hours.
Improved Tripod
The included stand has four retractable sections to adjust the height from 16 "to 132". The triangular structure and non-slip rubber provide stability. The lamp base can be adjusted as desired, ensuring a perfect angle.
Easy to use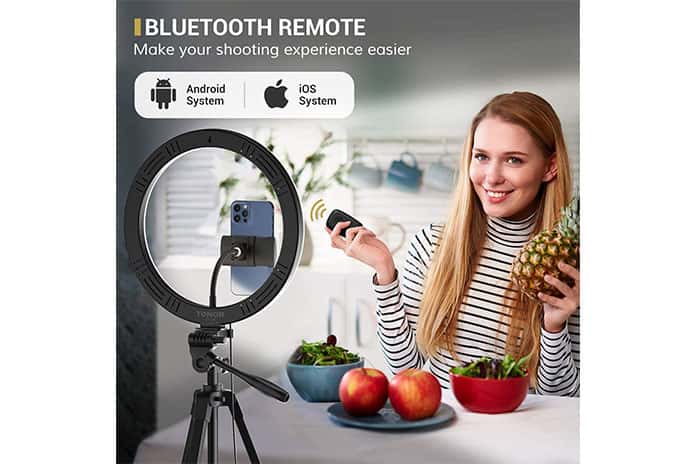 Lamp and tripod adjustment is extremely easy. Then just plug it into a power outlet and you can easily take selfies and record videos using the Bluetooth remote shutter. What you will receive: 12 " ring lamp with 2 meter USB cable, metal tripod, phone holder, Bluetooth remote trigger, manual, and after-sales card.
Product Details
Product Dimensions: 25 x 25 x 3 cm; 1.7 kilograms
Date first available at Amazon.co.uk: 19 December 2020
Manufacturer: TONOR
Item model number: TRL-20
TONOR 12 Product Specifications
Ring Light Size: 12 inches
Color rendering index: 80-90
Luminous Flux: 500-800lm
Power: 10W
Input: USB 5V-2A
Number of LEDs: 160
Lifespan: More than 20,000 hours
Extendable Tripod Height: 410-1350mm / 16 "-53"
Remote control battery: CR2032, 3V
TONOR 12 Tripod Stand TRL-20 Accessories
1 x 12 "Ring Lamp with USB Power
1 x Adjustable metal tripod
1 x Phone holder
1 x Bluetooth remote trigger
1 x Manual
1 x After-sales card
Advantages Of TONOR 12 Tripod Stand TRL-20
Youtube: Perfect lighting to eliminate adverse shadows on your face, improving your image and attractiveness in the resulting video.
TikTok: It helps you to easily and clearly record the best moments of your life.
Zoom call: A good light source makes your work more efficient.
Final Verdict:
The Tonor 12 "selfie ring light is an excellent product for anyone looking for a comfortable, high quality, long-lasting recording professional audio or videos. Toner 12 is available for just 49.99$, which is very reasonable. Try it out and start recording high-quality videos with excellent output.