Penji is a graphic design service that offers unlimited graphic designs with unique and best visual models. The monthly design service of Penji allows you to create as many design requests as you like, and the graphic design team of Penji will do this individually, with a 48-hour response time for most design requests.
With a reasonable pricing range, you can get custom-made designs such as logos, collateral marketing, social media graphics, websites, apps, and more.
This article will give you a detailed review of one of the rising and on-demand graphic design platforms.
Penji: Where It's All Started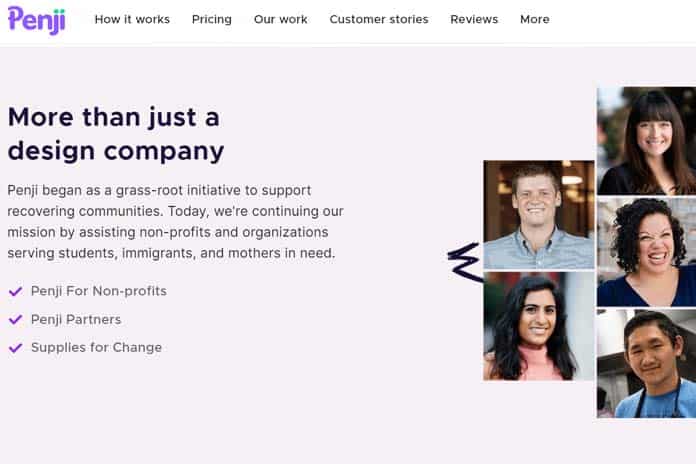 Penji, an on-demand graphic design company founded by Johnathan Grzybowski and Khai Tran in 2017. Like, everyone, they too have faced many setbacks in establishing a company. Before starting graphic design, they ran an agency specializing in SEO, website design and development, application design, and social media marketing.
On October 21, 2017, these two founders delivered a masterstroke by launching the Graphics design company named Penji. After then, there is no turning back as it became one of the finest graphic design companies and employs hundreds of people worldwide. Despite the success of Penji, The business clients admire the exceptional graphic design skills provided at flat rates.
Services Offered By Penji
Penji provides the best and unlimited graphic design services for agencies, marketers, businesses etc., with best flat rates. Here are some of the services offered by Penji.
Branding
Custom UX/UI
Digital
Banners
Digital ads
Social media content
Illustrations
Custom Illustrations
Typography
Marketing
Business cards
Flyers & sales sheet
Infographics
Merch sellers
Promotional materials
T-shirts
Print
Books & magazines
Packaging & Labels
Stationeries
Review: Pricing Range Of Penji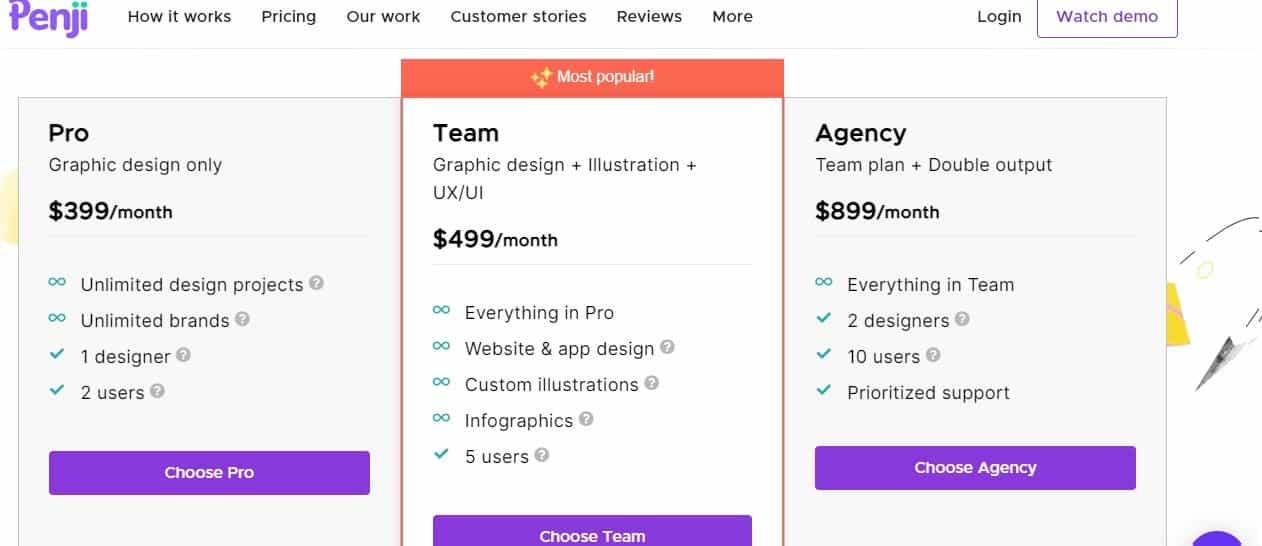 Penji offers the pricing in three different categories. In this review we will give you the detailed description on Penji pricing plans.
Pro Membership: Graphic Design Only
The professional membership is perfect and most suited for solopreneurs, small businesses, or startups looking for general and basic graphic design help.
Pricing Range: 399$ Monthly Basis
With pro membership you will get the following features:
Unlimited design projects
Unlimited brands
1 designer
2 users
Team Membership: Graphic design + Illustration + UX/UI
The Team membership is perfect and most suited for marketers and growing teams looking for Graphic design, Illustration, and UX/UI.
Pricing Range: 499$ Monthly Basis
With Team membership you will get the following features:
Everything in Pro
Custom illustrations
Infographics
Website & app design
5 users
Agency Membership: Team + Double Output
The Agency membership is perfect and most suited for Agencies with high output demands. Agency Membership is the advanced premium plan, and its a dream for any agency to get all the fantastic features provided by penji.
Pricing Range: 899$ Monthly Basis
With Agency membership you will get the following features:
Everything in Team
Unlimited design projects
Double Output
Website & App Designs
Custom Illustrations
Infographics
2 designers
10 users
Dedicated Account Manager
Prioritized support
Advantages Of Penji Graphic Design Service
Compared to other alternatives, Penji graphic design services offer the best pricing.
Penji provides businesses with high quality and creative graphic designs as they hire the best designers worldwide.
It is 100% risk-free and 15 days of money guaranteed.
Penji employees are friendly, and their response is super quick.
Conclusion:
We suggest you choose Penji, which will become beneficial for your businesses. If your company needs 5 to 10 designs per month, then the pricing will be a burden for your business. We recommend Penji for brands that want efficient and affordable graphics with no billing surprises. Before we conclude, The Penji on-demand graphic design is a risk-free and 15-day money-back guarantee worth choosing for businesses.