Startups can range from one-person operations to companies with thousands of employees. However, what successful startups have in common is that they have someone at the forefront with the right mindset and clear goals that can lead the team towards the desired results. Most importantly, the rest of the team needs to believe in the founder's vision and be willing to help the founder turn that vision into reality.
Startup Studio Insider, a dedicated space for startup studio enthusiasts, recently shared their top 8 qualities of successful founders. According to Startup Studio Insider, "Startup studios work with many founders and, therefore, have a unique perspective and deeper insights into what makes a successful startup founder." As such, a startup founder needs to be a jack of all trades and have a strong vision for the company and understand what the company needs to achieve in the long term.
Let's go over the top eight traits of successful founders, according to Startup Studio Insider:
1. Embraces a collaborative environment
Founders have to be willing to listen to feedback and be open to constructive criticism and suggestions from others. So, being able to work well with others is a huge advantage for anyone in a startup. For startup studios, this is highly beneficial as studios are staffed with the brightest minds to help turn an idea into an operational, self-sustaining business.
2. Constantly seeks disruption and innovative ideas
The majority of successful founders are truly innovative, and they aren't willing to accept the status quo. They don't simply mimic what has worked for others, but rather, they are thinking about how to improve upon what has already been done.
3. Aware of their strengths and weaknesses
The best startup founders recognize that they are not experts at everything (and they shouldn't be) and know when to pull in support rather than trying to do everything themselves. As such, being self-aware enough to know when and where you need additional support is a coveted skill that defines a great entrepreneur.
4. Helps others in their team rise
A great leader is a cheerleader for their team, they build them up and are optimistic about the future. They seek ways to help members of their teamwork towards their own professional goals, allowing them to grow with the business.
5. View challenges as opportunities
The most successful startup founders did not stop when they hear the word 'no', and they are not afraid to explore uncharted territories despite uncertainty. Founders who address roadblocks as opportunities to tighten up their strategy are more likely to lead impermeable startups.
6. Knows how to implement ideas
There's a certain type of entrepreneur who, when faced with a roadblock, will see it as an opportunity to tighten up their strategy and make their business even stronger. Having a high level of visibility into tactical elements of the business will ensure that you are not overlooking threats and opportunities for the business.
7. Understands failure is part of the process
The truth is that most startups fail. It's really important for entrepreneurs to understand that failure is a part of the process, that failure is not the opposite of success, it's a part of success. Failure-averse entrepreneurs likely overlook or shy away from opportunities that they deem too risky.
8. Embodies charisma
Finally, and arguably one of the most important qualities on this list is charisma. The majority of highly successful entrepreneurs (and people in general) are charismatic — the way they lead and interact with people, inspire others and promote a following or commitment to their vision.
For more top tips and startup studio information, be sure to check out Startup Studio Insider!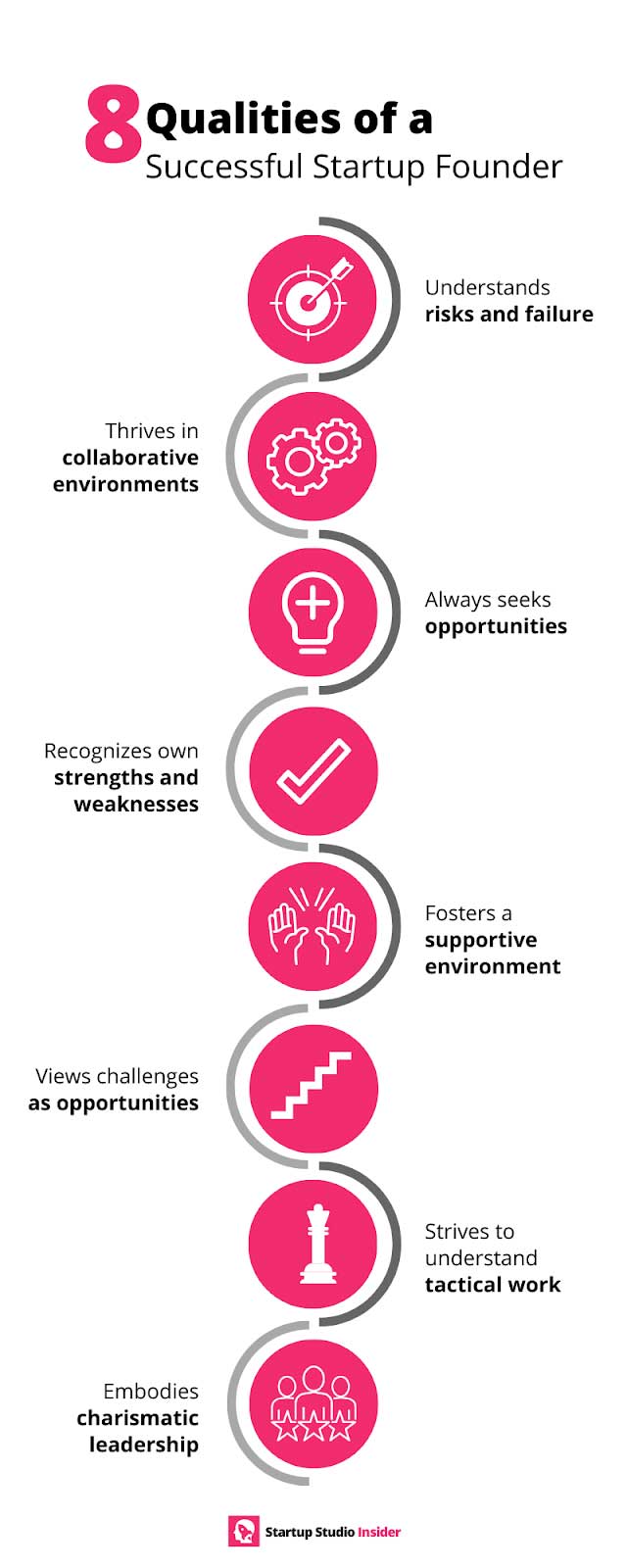 Conclusion
Successful entrepreneurs aren't born, they are made. In fact, even the best founders can fail, so it's important to remember that even the most unsuccessful entrepreneurs can be successful. While there is no set list of requirements that constitute an exemplary founder, there are patterns of success that indicate a few characteristics and practices of successful entrepreneurs today.
For more information around the startup studio space and entrepreneurship tips, check out Startup Studio Insider!